===>Lockdown or not - France weighs up new rules to curb COVID-19[field]===>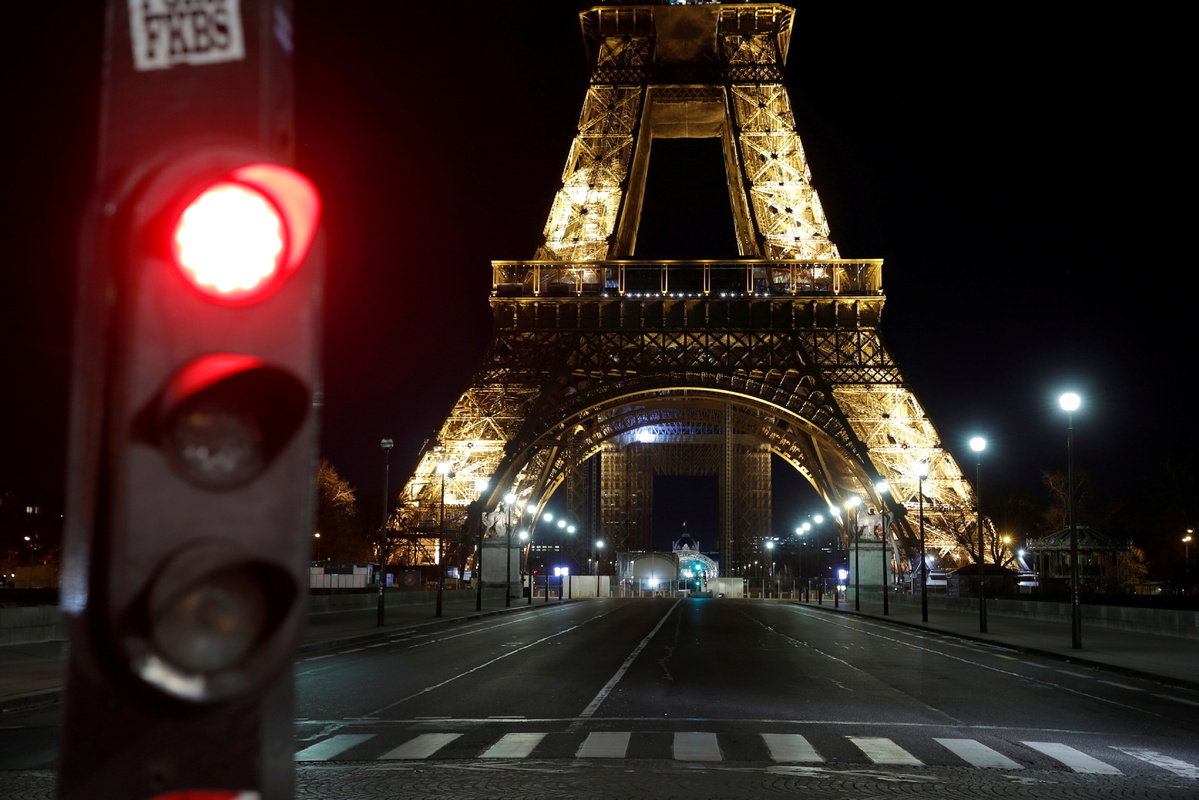 A view shows the deserted Iena Bridge near the Eiffel Tower during a nationwide curfew, from 6 pm to 6 am, due to restrictions against the spread of the coronavirus disease (COVID-19), in Paris, France, Jan 25, 2021. [Photo/Agencies]
PARIS - After many European countries went into new lockdown to cope with an exponential rise in COVID-19, eyes are now on France where calls are growing to introduce a new confinement, but questions linger on when the country will take such a move and how the lockdown will be: hard or soft?
French government, for now, sticks to a package of measures it has already imposed, including a 6 pm to 6 am curfew and tough borders control, although it admitted that the situation is "worrying".
But to epidemiologists, stricter rules, notably a nationwide confinement, are needed in light of the more infectious virus variant first detected in Britain.
Speaking on the sidelines of a visit to the regional health agency of Ile-de-France, French Prime Minister Jean Castex warned earlier in the day that the epidemic indicators were "worrying", pledging "to amplify the strategy" to combat the coronavirus.
"Decisions will have to be taken this week," he told reporters without elaborating.
Asked whether the government would order people to stay at home once again, French Minister of State for European Affairs Clement Beaune told Radio Classique that "nothing yet has been decided."
"Depending on the impact of the curfew on the health situation, additional measures will be taken or not. There are scenarios (on the table) but no decision yet," he said earlier on Monday.
If the nightly ban on people's movement falls short to limit the virus circulation, a new lockdown would be ordered, according to Health Minister Olivier Veran.
"We need the curfew to show results," he told Le Parisian newspaper on Sunday.
"In a best-case scenario, we will manage to reduce the epidemic pressure. If not, we will not wait for the month of March before acting," he added.
On Jan 16, a night-time ban on people's movement, in force since mid-December, was brought forward by two hours in the French territory to reduce social mixing and halt a surge in COVID-19 infections.
Catering and event businesses remain closed and public gatherings are still banned. However, the average number of new infections has increased from 18,000 to more than 20,000 currently. Some 3,041 patients are put on ventilator, occupying nearly 60 percent of the country's 5,100 resuscitation beds.
On top of this, the more contagious variant accounts for up to 9 percent of cases in certain French regions, notably in Paris and its surrounding areas.
In its latest report, the French National Institute of Health and Medical Research (Inserm) expected the COVID-19 new strain (VOC) would become dominant at home between late February and mid-March, depending on the epidemic evolution.
To Jean-Francois Delfraissy, head of the scientific council that advises the government on the epidemic, the virus new strains have completely changed the pandemic situation.
"If we do not tighten regulations, we will find ourselves in an extremely difficult situation from mid-March...In a difficult situation, the quicker you take a decision, the more effective it is, the more it can be of limited duration," he said.
"We probably need to go towards a confinement. Whether that needs to be a very strict confinement like the first one in March or a softer form like in November, that is a political decision," the French immunologist told BFMTV television.
France was in a national lockdown from March 17 to May 11 to contain the first wave of the epidemic.
Two weeks into the lockdown, daily infections reached the peak at 7,578 on March 31. But the figure dropped to a little above 4,500 in the first half of April and then went below 1,000 in May.
However, the number crept back up after summer holidays, and reached a record 86,852 on Nov 7, plunging the eurozone's second largest economy into a second confinement at the end of October. The less-stricter lockdown helped reduce the number of infections to an average of 10,000 cases in early December 2020.
To Djillali Annane, head of intensive care unit at the Raymond-Poincare hospital in Paris suburbs, it was necessary to impose a new confinement to reduce cases to below 5,000 per day, otherwise "testing and isolation strategy will not be effective."
"If we now strictly lock down for a few weeks, and we seize this moment to further accelerate the vaccination...we can then probably open many economic and cultural activities in the spring," Annane said.
In any new lockdown, businesses should be open to help already struggling companies, according to Geoffroy Roux de Bezieux, head of the MEDEF French business group.
"If it will be a (new) confinement, it must be as short as possible, because the French economy is in great difficulty. What is required is to let all businesses open," he told RMC radio.
An Elabe survey released on Jan 13 found that 83 percent of people were expecting a new order to stay at home, with a large majority of them saying they would respect the rule.