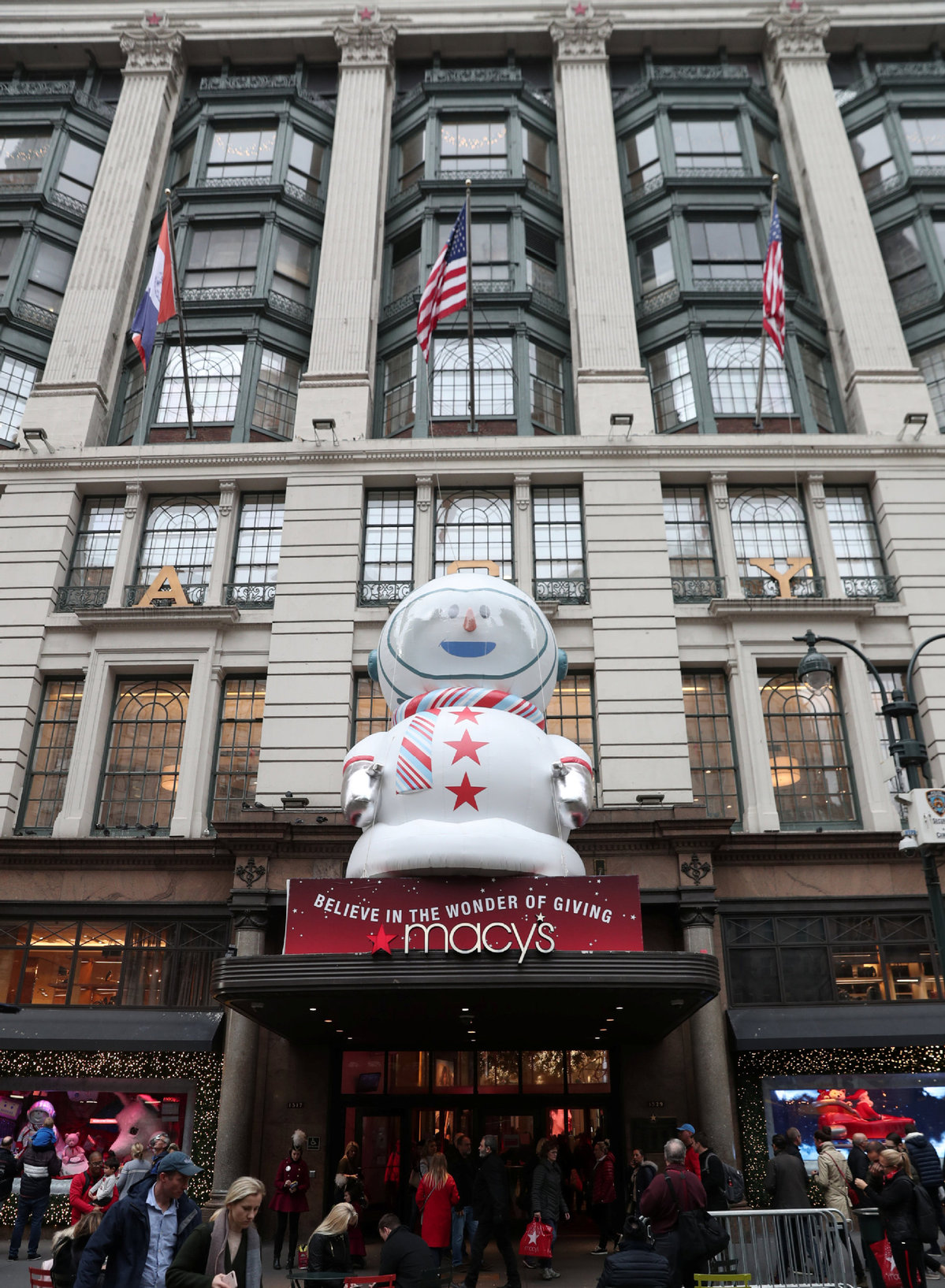 The outside of the Macy''''''''''''''''s department store is seen in New York, December 3, 2018. [Photo/Agencies]
As Macy''''''''''''''''s raised the curtain on its elaborate window displays of festive cheer in its home market, the US retail giant has quietly brought down the curtain on its business in China ahead of the most important selling season of the year.
A recent statement on Macy''''''''''''''''s flagship store on Alibaba''''''''''''''''s flagship e-commerce portal Tmall said that the store stopped taking orders since Dec 3 and its customer services will not be available by the end of the month.
This is the second time in a year that the 160-year-old department store chain has called off its business in China.
Japanese Health Products
In May, the company announced in its 2018 first-quarter financial report that it had ended a joint venture, Macy''''''''''''''''s China Ltd, which was set up with Hong Kong-based Fung Retailing Ltd in 2015. Its official website was closed in June, but said it would remain active on Alibaba''''''''''''''''s platform and other Chinese social media channels.
Its latest decision signifies the company''''''''''''''''s full retreat from China, the world''''''''''''''''s most populous market.
"One of the challenges for foreign retailers in China is to keep pace with the changes in the market," said Matthew Crabbe of consultancy firm Mintel, adding that the growth of online retail, and more recently New Retail, have been the major changes China has gone through and proved challenging for foreign retailers.
In the case of Macy''''''''''''''''s, when it entered China in 2012, it chose to invest in a luxury e-commerce platform, VIPStore, at a price of $15 million. The investment, which marked Macy''''''''''''''''s first foray into a foreign market, allowed it to become a shareholder of the then top e-commerce platform and made its private-labeled merchandise available for sale in China.
The partnership also resulted in a brick and mortar store in Shanghai that sold the merchandise from Macy''''''''''''''''s in the name of VIPStore, instead of Macy''''''''''''''''s department store, according to a report from Shanghai-based China Business News Daily.
The partnership reached an end as the Chinese platform went through large-scale redundancies, resignation of top executives and bankruptcy in the summer of 2013.
The retailer, however, returned with an official store on Tmall through a joint venture in 2015.
During the Singles Day shopping festival on Nov 11, 2016, the company said it reached the daily sales record achieved in the previous year within five minutes. It also ranked top three among the 10,000 international brands that participated in the Black Friday sales campaign launched by Tmall that year.
Macy''''''''''''''''s is not alone in its attempts to succeed, if not survive, in China''''''''''''''''s competitive retail landscape. Last April, British retailer Marks and Spencer closed its last outlet on the Chinese mainland because of "continued losses" and "low brand awareness", nine years after its debut.
In October, British high street fashion chain New Look announced the closure of its more than 100 outlets in China. In 2014, it entered the Chinese market with an ambition to have 500 stores in three years.
"One common factor has been the inability to adapt their brand concept to suit Chinese consumers'''''''''''''''' needs and demands. This includes not understanding the Chinese consumers enough to find the merchandise ''''''''''''''''sweet spot'''''''''''''''' to appeal to shoppers with the right products at the right price," said Crabbe.
Yet China remains a lucrative market for foreign retailers.
Following a shopping mall in Beijing in 2013, French luxury department store chain Galeries Lafayette is adding a second outlet in China in Shanghai''''''''''''''''s Lujiazui area. Covering a space of 23,000 square meters, the expansive mall is scheduled to open early next year.